Contact Us for a Free Quote!

Google Map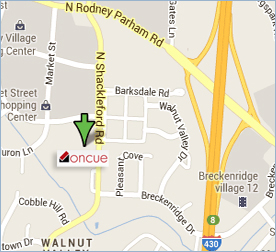 Our Location

Address:
4 Shackleford Plaza Ste. 214
Little Rock, AR. 72211
Telephone: 501-663-6400
FAX: 866-477-1058
E-mail: oncueprod1@oncue.net
Website: www.oncue.net
Contact On Cue Productions


Contact us to discuss your specific needs and we'll do our best to give you a quote that fits your budget ...

I not only care about selling you our services, but I care that our services get results for you. And That's why I created On Cue Productions - B. Jay Kaplan


On Cue Productions - Phone: 501-663-6400 - Fax: 866-477-1058 - Email: oncueprod1@oncue.net
4 Shackleford Plaza Suite 214 - Little Rock, AR. 72211